How Can Wisdom Tooth Removal Help Protect My Oral Health?
While most wisdom teeth erupt without difficulties, patients without enough space in their jaw for third molars can experience issues such as impaction or wrong-angle eruption. In these cases, Dr. Brian Tavoian can perform simple or complex wisdom tooth removal at our dental practice in Cedar City, UT. Extracting wisdom teeth can help prevent more serious issues from emerging and protect your overall oral health. Most often, Brian can detect concerns early with annual digital x-rays at scheduled examinations and perform the necessary treatment before the health of your smile is affected.
Common Issues with Wisdom Teeth
Wisdom teeth, or third molars, typically emerge between the ages of 17 and 25. When there is not enough room for the wisdom teeth to erupt properly, they can become trapped beneath the gum and bone, or against neighboring teeth. This is known as impaction and typically requires an extraction procedure.
When wisdom teeth are healthy, they can be an asset to your smile. However, impacted wisdom teeth can lead to health concerns if left untreated.
In addition, wisdom teeth can erupt twisted or at the wrong angle, which can threaten the stability of neighboring teeth. In some cases, wisdom teeth impaction can lead to serious concerns, such as pain, infection, decay, gum disease, or cysts. The best way to determine if your wisdom teeth need to be removed is to schedule a consultation at our office. We can take a series of digital x-rays and discuss the recommended course of treatment with you.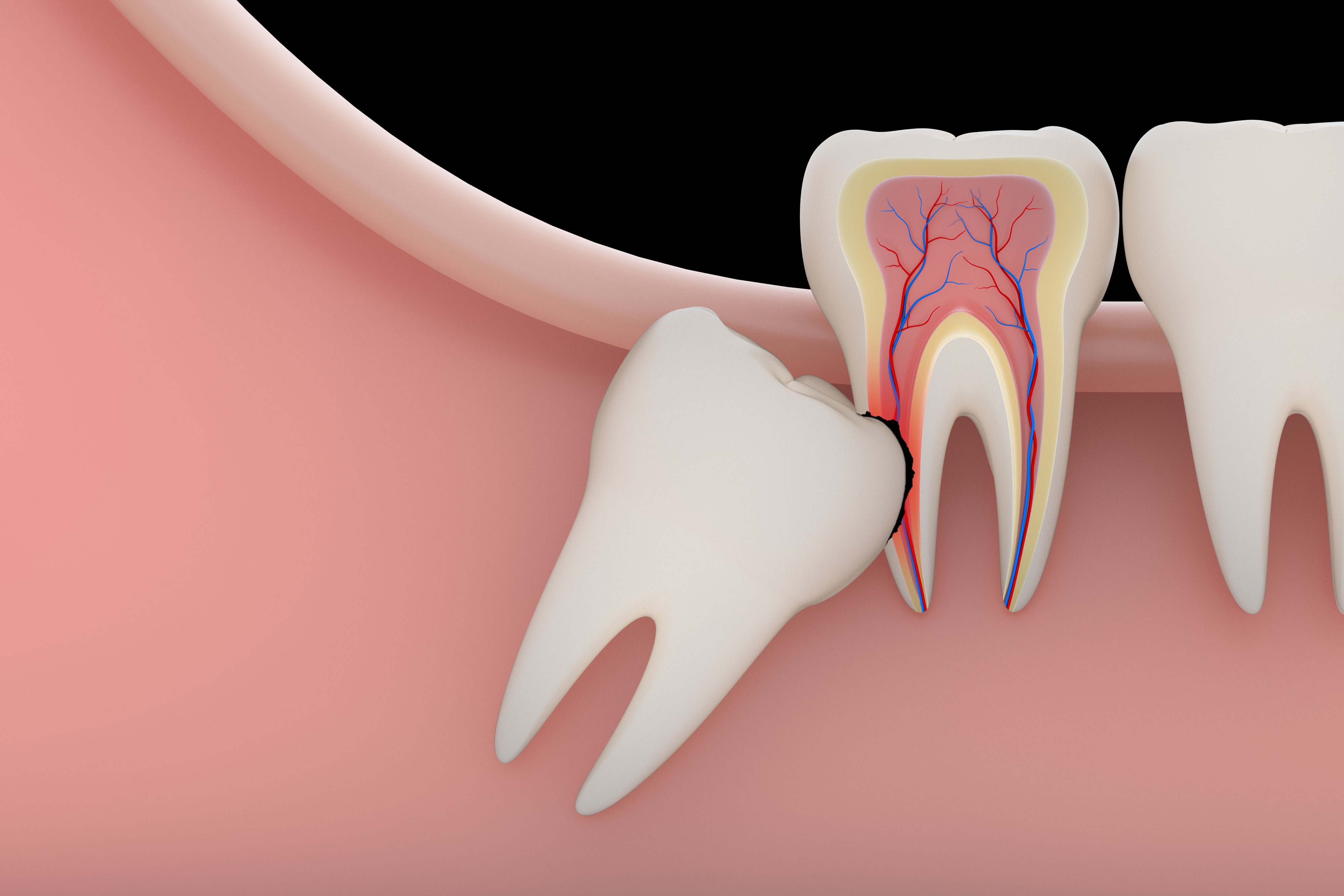 The Removal Procedure
Depending on the location and impaction type of your wisdom tooth, Brian can perform a simple or complex extraction. The complexity of the case will determine the type of sedation dentistry we recommend. We have several types of sedation available at our practice, and will discuss these options with you during your visit.
Once you are comfortable, Brian will make an incision in the gum tissue and gently remove the tooth by rocking it back and forth with a dental instrument. If you require a complex extraction, the tooth may need to be separated into pieces and then removed. Once the tooth has been extracted, he will clean the site of any debris and close the incision with sutures. We may place gauze over the site to control bleeding and encourage clots to form.
Recovery and Aftercare
If you received sedation, you may feel drowsy after the procedure. Most patients experience little to no pain after wisdom tooth extraction. However, every patient recovers differently and you may experience swelling or mild discomfort for three or more days after the procedure.
During this time, you can address swelling with ice. If your jaw is sore, a heating pad can help. We recommend eating soft foods such as soup, rice, or pasta and drinking plenty of fluids. While brushing your teeth, patients should be careful not to disturb the blood clots, as this can cause bleeding and may lead to dry socket. Other things to avoid include:
Drinking through a straw
Rinsing your mouth with harsh mouthwash
Eating hard, crunchy, or sticky foods
Smoking
These activities can loosen blood clots and impede your healing process. If you have a fever or persistent pain and swelling after the procedure, contact our office immediately.
Protect Your Oral Health
When wisdom teeth are healthy, they can be an asset to your smile. However, impacted wisdom teeth can lead to health concerns if left untreated. If you are concerned about you or your child's wisdom teeth erupting incorrectly, you can contact our office by phone at (435) 586-0123 or online any time to learn more about the services we offer.