Creating a Comfortable, Stress-free Experience with Sedation Dentistry
Sedation dentistry can help even the most anxious patient receive the treatments they need to restore and protect their oral health. It is not uncommon to feel nervous about dental work such as tooth extractions. For patients who are apprehensive or have trouble controlling their movements for long periods of time, we provide sedation dentistry at our Cedar City, UT, dental practice. Dr. Brian Tavoian offers nitrous oxide, oral-conscious, and intravenous (IV) options to ensure your comfort throughout your treatment. We work with a licensed anesthesiologist who will administer deep sedation and monitor your vitals at every stage of the procedure.
Sedation Types
In order to ensure your comfort during a wide range of dental procedures, we offer three levels of sedation: minimal, moderate, and deep. Minimal sedation allows you to remain awake, but relaxed. Moderate sedation makes it so you are unlikely to remember much of the procedure. Deep sedation will take you right to the edge of consciousness, as if sleeping, though you can still be awakened if necessary. Depending on the extent of your treatment and your anxiety level, we can choose the best method and level of sedation for you.
Nitrous Oxide
Also known as laughing gas, nitrous oxide gas is inhaled to induce a relaxed state. It is usually combined with a local anesthetic to eliminate pain. Under this type of sedation, you are still conscious. However, you are relaxed and calm during your treatment. This method can achieve minimal or moderate levels of sedation.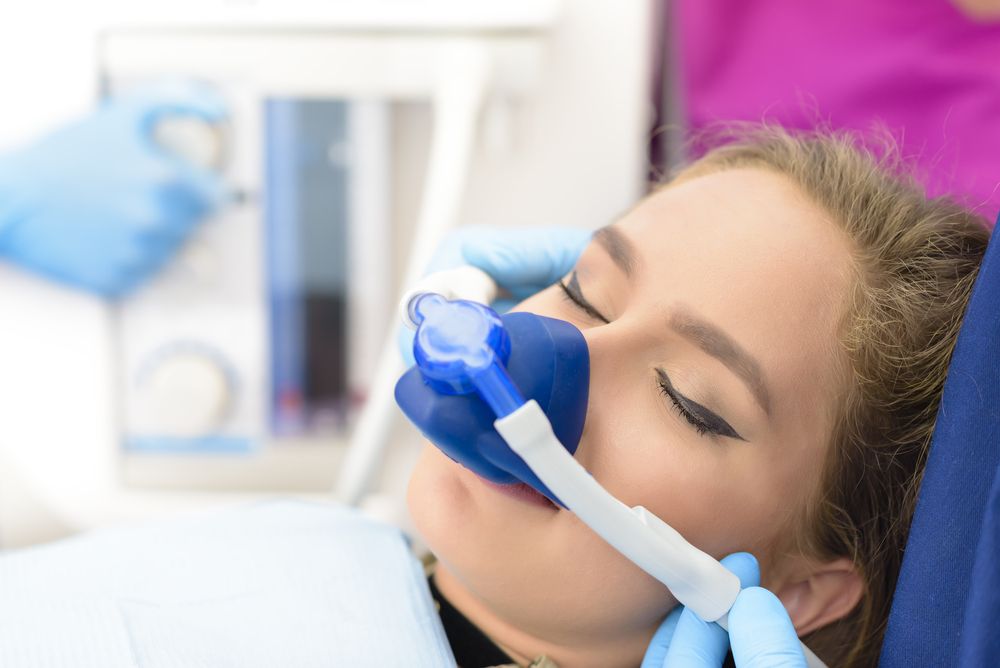 Oral Conscious
Another form of conscious sedation is achieved through the use of oral sedatives. At a set time before your procedure, you can take this prescribed medication to relieve your anxiety. Similar to nitrous oxide, oral conscious sedation does not provide pain relief so we can combine the medication with a local anesthetic for your comfort. Oral sedatives can provide minimal or moderate levels of sedation.
Intravenous (IV)
For this type of sedation, the sedative medication is administered through a vein, which allows it to take effect quickly. This method allows our anesthesiologist to adjust the level of sedation throughout the procedure. With IV sedation, you can be placed under moderate or deep sedation. A local anesthetic will likely be applied to help ensure you do not feel pain.
There is no need to suffer with dental phobia. Our team can help you relax so you can have a more positive dental experience.
Candidacy
While sedation dentistry may not be right for every patient, it can provide significant relief for patients with dental anxiety. Other reasons Brian may recommend sedation include:
Past difficulty feeling numb with local anesthetics
Fear of needles
Sensitive teeth
Complex dental issues
A sensitive gag reflex
Previous dental experiences
Extensive dental work, such as dental implants
Difficult controlling movement
Additionally, patients with arthritis or other conditions that make it difficult to sit still for long periods of time may be able to improve their dental experience with sedation. However, certain medical conditions may limit your ability to receive sedation. Your medical history can help us select the right method for you.
Receive the Treatment You Need
There is no need to suffer with dental phobia. Our team can help you relax so you can have a more positive dental experience. To find out more about your options for sedation dentistry, contact our office online or call us at (435) 586-0123.