Cut Down Your Wait Time with Same-day Crowns
Traditional crowns require two separate appointments and the procedure can take days or weeks to complete. With the emergence of CEREC® technology, patients can now walk into our office and leave with their new custom dental crown on the same day. Brian K. Tavoian, DDS, PC, has practiced dentistry for more than 25 years. Brian offers same-day crowns at our Cedar City, UT, office. The same-day option allows patients to return to work and life faster than if they had selected traditional crowns.
The Benefits of Same-day Crowns
Same-day dentistry has revolutionized many aspects of modern dental care. CEREC technology allows patients who undergo same-day dental crown treatment to enjoy these benefits:
Faster procedure: Unlike traditional crowns, you can enjoy a restored smile after just one visit.
Natural-looking results: Brian works with porcelain since the material looks and feels like natural enamel and is more durable than alternative materials. Your custom prosthetic will match your smile.
Precise technology: CEREC technology allows for more accurate measurements of your custom prosthetic before it is constructed. This technology involves an intraoral scanner that creates precise images of teeth. Also, patients can enjoy the benefits of foregoing messy traditional impressions, which rely on clay molds.
Treatment savings: Fewer visits to the dentist can mean lower costs for your procedure.
No more temporary crowns: Temporary crowns can feel awkward, hindering chewing and speech function. You can avoid this uncomfortable middle step by opting for same-day crowns.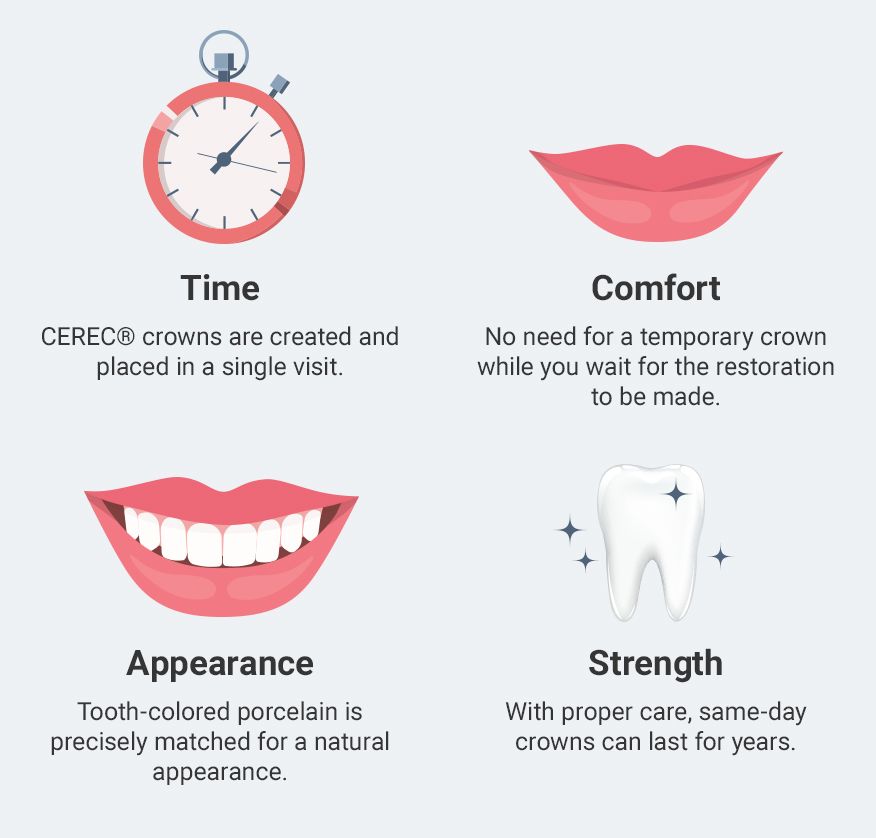 Same-day Crowns Candidacy
Brian may recommend same-day crowns if your remaining tooth structure is stable, but you have:
Cracked or chipped teeth
Advanced tooth decay or tooth damage
Worn teeth
An uneven bite
Recently undergone root canal therapy
A structurally weak tooth
A Look at the Procedure
Same-day crowns require two basic steps: preparing your tooth and fabricating your new prosthetic using CEREC technology. Preparing your tooth involves removing decay and a small amount of enamel to create room for your custom crown. Local anesthesia will be used to numb the area around your tooth.
With CEREC® technology, patients can walk into our office and leave with a new custom dental crown on the same day.
Patients who experience dental anxiety may request sedation dentistry. Our office offers nitrous oxide, oral conscious, and IV sedation. Once your tooth is prepared for the crown, Brian will take a detailed digital impression using our CEREC system. With input from Brian, the digital impression takes into account the color, size, and shape of your new tooth.
Then, our CEREC CAD/CAM software feeds information about your new prosthetic to an onsite milling unit that will construct your crown from a block of porcelain. The process usually takes one hour to complete. Once the tooth is ready, your new crown will be bonded in place, and Brian will check the quality of your bite, making adjustments as necessary.
Come in for a Consultation Today
Same-day crowns using CEREC technology not only allow for quicker placement of your prosthetic, but this leap in technology means that your new crown more accurately matches your other teeth. Dr. Brian K. Tavoian offers same-day crowns because he believes his patients deserve the best treatment options modern dentistry can offer. Our office accepts CareCredit® financing to help make dental procedures and services more affordable. If you are interested in learning about the benefits of same-day crowns, contact our office online or call (435) 586-0123.